Kelli Kirkland, Season 3 winner of Food Network's reality competition series Worst Cooks in America, sat down to answer some Duh-licious questions.
Kirkland was a formidable opponent this season and was ecstatic to win the 25,000 cash prize in the April 1st finale. After three undefeated seasons, series champion, chef Anne Burrell was hyped to take the challenge to another level by pitting her eight man red team against culinary titan Bobby Flay's blue team.
[Kelli and Chef Flay. c/o Food Network]
Kirkland, began the competition like her fellow contestants with poor cooking skills and after a rigorous eight-week boot camp, became acutely skilled on the various basic cooking techniques including: baking, knife skills, temperature, seasoning and preparation. Now a certified whiz in the kitchen, the Vacaville, California native and UCLA graduate currently resides in Los Angeles with her 2 year old son Apollo.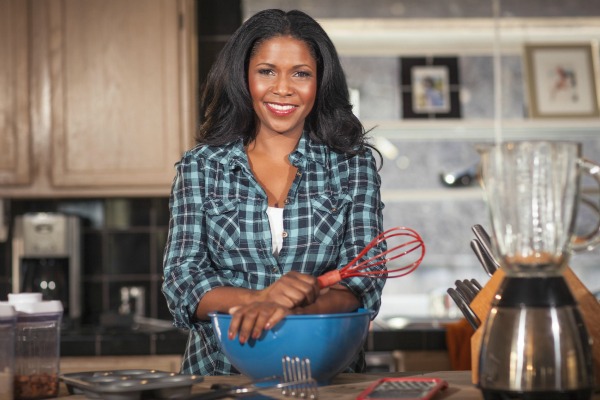 [Duh-Licious] How was this experience for you?
[Kelli Kirkland]  The Worst Cooks experience was extremely difficult, but also unbelievable gratifying.  It was so challenging to face such a big fear (being a bad cook) in front of all of America, but to learn so much under Bobby & Chef Anne and to come out winning the big prize was more than I ever expected!
[DL] Can you share one of your biggest kitchen blunders prior to being on the show?
[KK] One of my biggest kitchen blunders prior to being on the show was trying to make homemade pizza dough that resembled (both in appearance and in flavor) the side of a cardboard box.
[DL] How are your homemade meals now compared to before the show
[KK] Since appearing on Worst Cooks my homemade meals are now flavorful, exciting and decadent.  I'm not afraid to cook anything and every single week I try to create a brand new recipes.  Spending time in the kitchen is now a joy rather than a chore.
[DL] Culinary or otherwise, what was the most important lesson you learnt as a recruit?
[KK] The most important lesson I learned as a recruit is a lesson in the kitchen and in life: be fearless in all you do.  If you live by fear of making mistakes and of not being perfect you will miss out on so many great experiences and you will never live up to your full potential. On the show I was in the bottom 2 twice.  I almost went home.  But instead of being wracked by fear and giving up on myself I vowed to try harder the next day and that determination and fearlessness is what led me to victory.
[DL] Has the show changed your future plans? If so, what's next for you?
[KK] I'm actually writing a cook book!  Who'd of think it?  Because of the show my life has changed forever (in the best possible ways) and I hope my book will inspire people to face their fears in the kitchen and in life.
[DL] Can you share your go-to recipe?
[KK] Yes. My favorite go to recipe is for a porter house steak. The rub is what makes it taste great and can be used on beef, pork or chicken.  If you want to get fancy and make the sauce as well go for it, but honestly the steak will be delicious just with the rub so try that first and see if you like it.
Cook, eat, be happy!
Kelli
~
Dry Rubbed Porterhouse Steak With Bagna Cauda Sauce (serves 4)
by Kelli Kirkland
Total Time: 1 hr 30 min | Prep: 20 min | Inactive: 30 min | Cook: 40 min
Ingredients
Steak:
- 1 tablespoon kosher salt
- 3 tablespoons brown sugar
- 3 tablespoons porcini mushroom powder
- 3 tablespoons pimenton (smoked Spanish paprika)
- 3 tablespoons garlic powder
- 1 tablespoon cayenne pepper
- Oil, for brushing grill
- Four 24 to 28-ounce bone-in porterhouse steaks
Extra-virgin olive oil
Bagna Cauda Sauce:
- 2 tablespoons extra-virgin olive oil
- Pinch red pepper flakes
- 5 anchovy fillets
- 3 cloves garlic, smashed
- 8 tablespoons unsalted butter, cut into pats
Directions:
For the steak: Preheat the oven to 450 degrees F. Combine the salt, sugar, porcini powder, pimenton, garlic powder and cayenne pepper in a bowl, using your fingers to make sure all the ingredients are evenly distributed. Rub the outsides of each steak generously with the rub, and then let sit 20 minutes.
Preheat a grill pan over medium-high heat.
When the grill pan is very hot, cook the steaks until well charred on both sides. Transfer to a sheet tray in the oven, 5 minutes, and then remove and let rest in a warm spot, 10 minutes. Cut the steaks off the bones, and slice on the bias across the grain.
For the bagna cauda sauce: Heat the olive oil, red pepper flakes, anchovies and garlic in a medium saucepan over medium heat and cook, 10 minutes. At the last minute before serving, whisk in the butter, 2 pats at a time, waiting for the butter to almost melt before incorporating more. Spoon the sauce into ramekins.
Drizzle the steak immediately with the Bagna Cauda, garnished with parsley.