The USA Rice Federation challenged me to come up with a portable, utensil-free recipe that contained brown rice– Challenge accepted. Read on for the recipe.
Easy challenge? no, but I think I held my own. I went to the length of making my own puffed rice (like the cereal that goes snap, crackle, and pop) for these gluten-free cinnamon brown rice crispy squares.
I used a short grain brown rice because it puffed up the best. I've learned that making puffed rice is a lot like making popcorn; you need to have moisture present in the grain and have a pressurized environment in order for it to go POP.  The closest way to do this at home is to soak your rice in water for a few hours, drain it and dab it of excess water, and flash-fry it. Of course this domestic method will never be as perfect as the commercial process, but you render an interesting texture from the rice. Yes, you can use store puffed rice, but what's cooking if you can't experiment, right?
Cinnamon Brown Rice Crispy Squares [makes 12, 3" bars]
Ingredients:
- 2 cups short grain brown rice
- 1 tsp cinnamon, ground
- 2 tbsp butter, unsalted
- 2 cups miniature marshmallows, (my grocer was fresh out of the minis; I don't recommend using the large ones, they're a pain for this application)
- 1 cup pure chocolate chips (for dipping/drizzling)
- 2 cups canola oil for puffing the rice
- 2 cups water
Directions:
1. In a medium-size bowl, soak the rice in water for a minimum of 1 hour. Strain, and lay on a paper towel to remove excess water.
2. Begin heating the oil over medium high heat to 365′F. If you have a thermometer, USE IT! If you don't have a thermometer, the oil is ready when a 1″ cube of white bread dropped into the oil browns in 60 seconds; that oil temperature will be about 365 degrees F.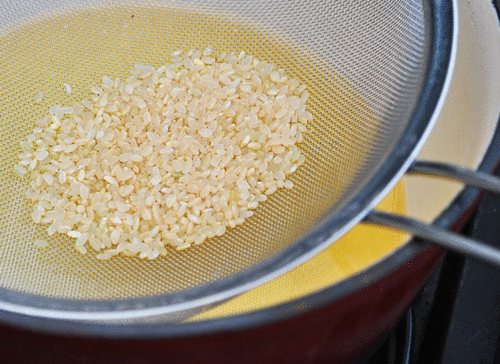 3. In 1/4 cup portions, pour the rice in a metal sieve, and dip into the oil for frying. The rice grains will begin to 'pop' almost instantly and turn white. You will only need to dunk the rice in the oil for 8-10 seconds. Remove from the oil, and place on a paper towel lined cookie sheet to remove excess oil and allow to cool. Repeat until all rice is puffed.
ALWAYS, and I mean always be careful around hot oil– have the vent running, wear long sleeve shirts to protect your skin, and make sure your work surface is clean and unobstructed.
4. In a saucepan, melt the butter on medium heat. Once the butter is melted, stir in the cinnamon until combined. Add the marshmallows, and stir until melted. Remove from heat, and add the puffed rice to the marshmallow-butter mixture, and fold until coated (elbow grease needed, don't give up).
5. Pour mixture onto a parchment-lined cookie sheet, cover with another parchment sheet, and using a rolling pin, roll out until 1/4″ thick. Refrigerate for 15 minutes, remove and cut in 3″x1″ portions. Return to the fridge until fully set.
6. Melt chocolate over a double boiler, and drizzle or dip the bars. Allow to set, and enjoy.